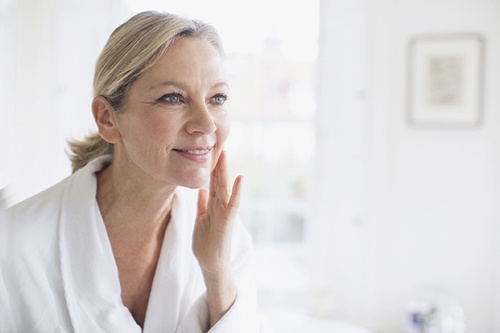 How can you look after your skin in the coming months?
Smitten Serums are Vitamins for the skin.
Are they a cure for COVID-19 – no of course not but they will give your skin some relief!
Flu's and colds typically come with high temperatures which dry out the skin leaving it feeling rough and flaky. Plus the red, sore nose we've all had when we have to blow and wipe our nose too often.
Smitten Serums feature botanical oils Rosehip, Evening Primrose and Vitamin E which have a high content of omega, 3 and 6, these can help aid in tissue regeneration. They are deeply moisturising and help rebalance the skin. And yes… even oily skin!
Normally we advise that you use the serum at night, however you can apply it whenever your skin feels dry and tight. Be careful going out in the sun though.. we don't want you to fry like a chip!
We want to share with you the story of Carole.
This poor lady was referred to Caroline Stanbury, Smitten CEO and Smitten Salon owner, as she was distraught about the state her skin. She'd had a treatment administered by a Dr using Efudix for her sun damaged skin. She hadn't expected her skin to look like this a week later.
Friday 6/3/20 2.45 PM Smitten Salon
Everything she used on her skin for the next 7 days burnt and stung her skin. She went back to the clinic, bought more expensive creams etc all which just irritated and made her skin weep.
She came to Smitten desperate as she had to return to work in 3 days time and had her daughters birthday the following day.
Initially Caroline just concentrated on covering it up as that's what Carole had requested.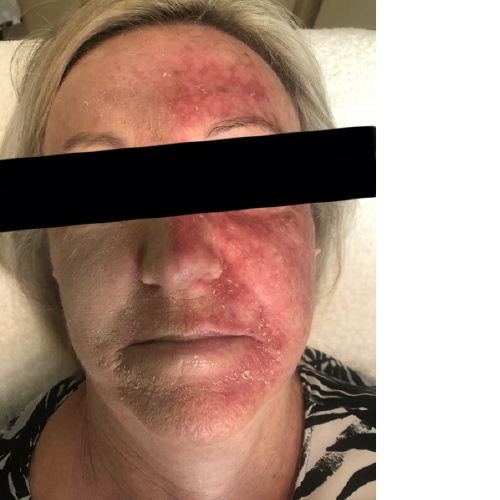 Friday 6/3/20 3pm
This is just Smitten Mineral Powder Foundation – anyone who says you can't get full coverage with a mineral foundation has just been proven wrong!
Caroline then decided to see what happened when she used the Smitten Rejuvenate Serum. She applied it all over the lady's face and…instant relief!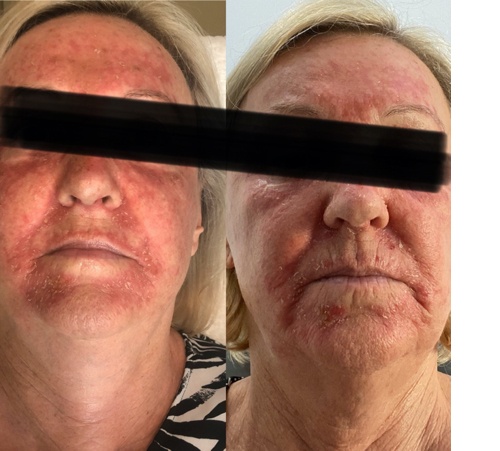 Left: Friday 6/3/20 2:45 pm  –  Right: Saturday 7/3/20 12.30pm
This shows the improvement in her skin 24 hours later and all she's used is the Smitten Rejuvenate Serum.  
Look how much less red the image on the right is. The area around the left eye is noticeably improved as well.⁠ There is less flaking and the general texture is so much better. In fact both Caroline and the client noticed that even before she left the salon her skin was noticeable less red. It has been only 30 minutes!
⁠
For her return to work on Monday Caroline advised using the Smitten Whipped Mousse Foundation in Latte as a base. This will continue to heal her skin as it includes Rosehip, Jojoba and Vitamin E. Then the Smitten Mineral Foundation over the top so she has full block out and coverage.⁠
Saturday 7/3/20 4:09 pm
This the combination of the Whipped Mousse Foundation and Smitten Mineral Foundation which she applied herself for her daughter's birthday celebrations!
⁠
To say she was happy in an understatement.
Here's her review on Facebook: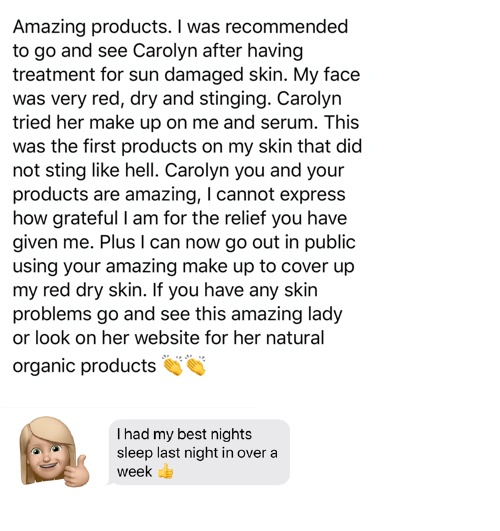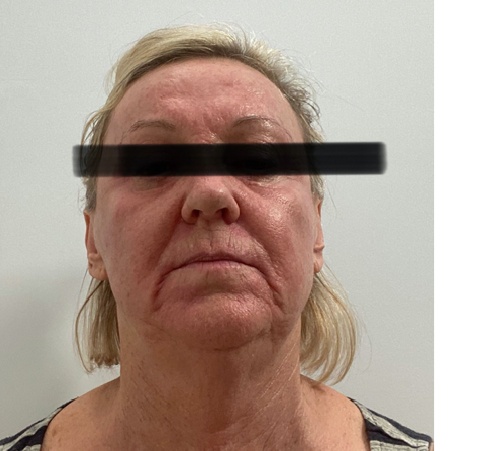 Monday 9th 6pm
Carole after work, after she's just taken her makeup off. Friday to Monday… Smitten Rejuvenate Serum is a winner.
Follow this link to read more about Rejuvenate Serum.
Follow this link to read about why botanical oils are good for oily skin types.